Formally institutionalized in the American academy for over half a century, African American Studies is a vibrant and dynamic discipline that creates new knowledge about the world and human existence through the critical and comprehensive study of the peoples, cultures, and ideas of Africa and the African diaspora.
The first discussions of African American Studies at Wake Forest University were initiated by students organized in the Afro-American Society in the late 1960s. In the March 18, 1969 edition of the Old Gold and Black, John Minter shared the five major aims of the new student organization including the "enrichment of Afro-American studies."
As a member of the Piedmont University Center, a consortium of colleges and universities located in and around the Triad region, the University hosted lectures by such leading figures in the discipline as Mary Frances Berry in 1971, Joseph R. Washington in 1972, and Charles V. Hamilton in 1973.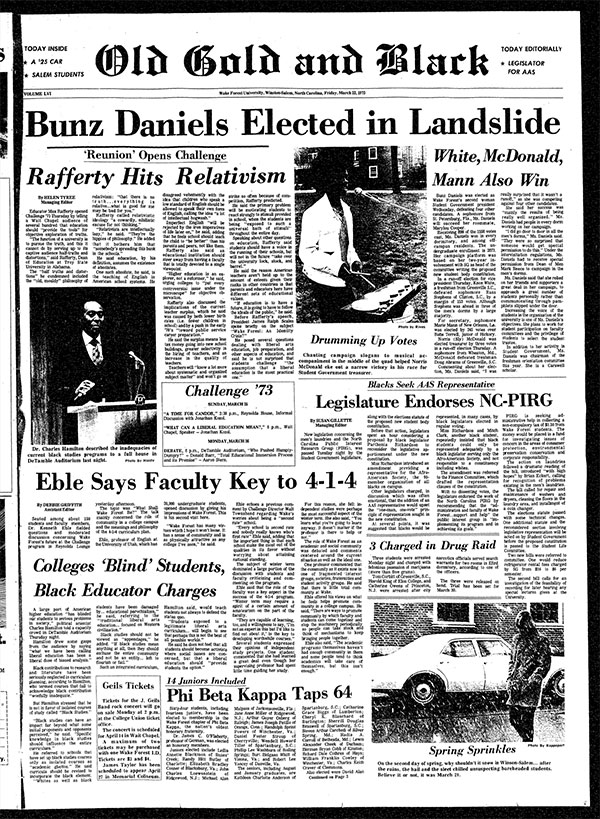 In a 1987 letter to the editor, a writer called on the University to examine its racial attitudes in light of the infamous Howard Beach incident and World Series riot on the campus of University of Massachusetts at Amherst writing, "We could begin by showing support for a strong Black Studies department…"
A faculty committee on American Studies was convened in 1991 "out of an original request by students a few years ago that the university implement a minor in African American studies." The committee opted for an American Studies minor arguing that it "would be a broader based approach to examining elements that have come together to make this country what it is today." In 1996, Wake Forest University launched an academic program in American Ethnic Studies. This interdisciplinary program "was established as a result of a reawakened interest in understanding and accepting the ethnic identity and heritage of all the people of the United States."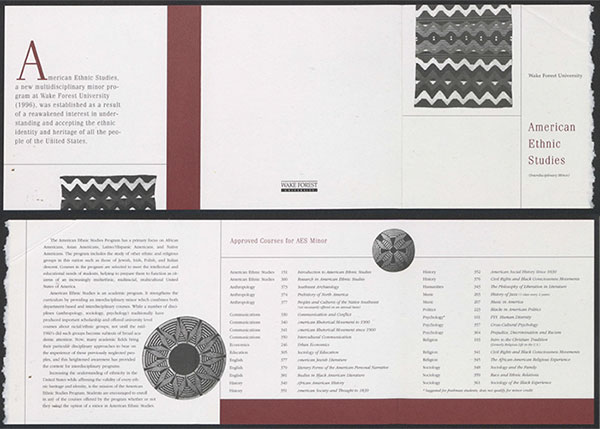 In early 2020, a group of Wake Forest faculty convened periodically to discuss creating an African American Studies program at the University. The conversations were designed to "identify interests and share ideas" about a vision and design of "what such a program could look like at Wake Forest" and "identify leadership that is clear on process and mechanics of proposing a program." The faculty affirmed that there was considerable support for establishing African American Studies and discussed the "need to deliver something substantial for students."
The Program in African American Studies is the culmination of decades-long effort by students and faculty to create a unique intellectual space that advances knowledge in the interests of a more humane world.
---
1 John Minter, "Black Society Looks to the Future," Old Gold and Black, March 18, 1969. See also Anthony S. Parent, Jr., "Weathering Wake: The African-American Experience," Founders' Day Convocation, February 26, 2009 and Edwin Graves Wilson, The History of Wake Forest University Volume V 1967-1983 (Winston-Salem, Wake Forest University, 2010), 32, 49, 73-74, 86-87, 125 and 130.
2 See February 19, 1971, September 15, 1972 and March 23, 1973 issues of the Old Gold and Black.
3 Mark Cave, "Examine Racial Attitudes," Old Gold and Black, January 16, 1987. A letter in the same issue apologized for the racial epithet targeting African Americans in a men's restroom. See Peter Shankland, "Graffiti Offends All," Old Gold and Black, January 16, 1987.
4 Eric Williams, "Committee Examines American Studies Minor," Old Gold and Black, February 8, 1991.
5 "American Ethnic Studies (Interdisciplinary Minor)," 1996, Box 6, American Ethnic Studies (undated), Vertical Files Collection, Special Collections and Archives, Z. Smith Reynolds Library, Wake Forest University.